Why Use a Town Crier?
Nathaniel can guide you through the process of using a town crier. Loyal and versed in the traditions, protocols, and duties of town criers Nathaniel can advise you on how you can best apply and maximize the services of a town crier at your event. He's available to answer any questions you have about using a town crier.   Contact Nathaniel
You acquire quality assurance when you work with Nathanial who has the distinction of being 1 of only 73 town criers officially recognized by the American Town Criers Guild.  Membership to the guild ensures the highest quality personality, performance, and professionalism. All members are vetted and duly appointed.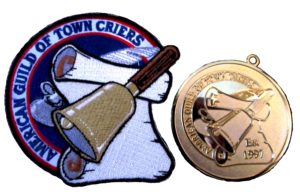 Benefits of using a Town Crier 
Generate Attention
Revolutionary war era livery (clothes), dynamic voice, chatty bell, and engaging personality allow Nathaniel to generate attention and interest.
People easily identify the town crier
Guests hear the ringing of the clattering bell, and a bellowing "OYEZ(hear ye). This combination of bell and booming voice makes the town crier easily identifiable.  When people hear and see the historically dressed Nathaniel, they expect he has something to say.  HUZZAH
Adds pomp to the festivities
Following traditional town crier protocols, Nathaniel, with his demeanor and eloquence infuses an element of elegance to your event.
Proclaiming Messages   
History' s roving newscaster, people in the past depended on the Town Crier for their news. Now, Nathaniel keeps people informed with tailored event updates and announcements. His brand of announcements focus on teaser trailers to capture attention, get people interested, and tell them what they can do next to discover more. However Nathaniel does more than give news updates. His duties include: Reciting official proclamations, suitable for opening and closing ceremonies; Delivering introductions for entertainers, distinguished guests, and authority figures; Bestowing pithy and precisely prewritten and verbally improvised cries.
To learn more about proclamations and cries Contact Nathaniel
Enhances the Environment and Experiences of Your Guests
Nathaniel's presence enhances the overall atmosphere of the event.  His profession as Town Crier, historical appearance, and personalized interaction, provides people with an experience they cannot get elsewhere.  Nathaniel helps personalize people's experiences by creating custom cries about what people are doing in the present moment, connecting people to their environment by commenting on what's happening around them, and using his imaginative improv skills to start humorous conversations with those around him.
Interactive and Hands-on 
Anywhere's a stage for Nathaniel and anyone could become part of the show. He's up close and personal with your guests, ready to engage and interact with them. Nathaniel likes to incorporate people whether he's getting an assistant bell ringer, proclaiming a personalized news update for someone he just quickly interviewed, or "appointing" a new town crier.  Nathaniel also gives hands-on glimpses into the past such as letting mom look for dad with a spyglass telescope, asking for change with colonial currency, and sending "18th century" style text messages.
Unique and Interactive Communication
Old fashion, 18th century style, communication, Nathaniel provides direct face-to-face communication. His live presence provides two-way communication which creates conversation.
Articulator & Vivacious Voice
Nathaniel's energetic brand of enthusiasm and engaging presence brings written and spoken words to life through his articulation of words, voice, facial expression, body language, gestures, and personality. To engage people, Nathaniel composes verbal theater with his words and voice. Playing his voice like an instrument Nathaniel produces a variety of volume, emphasis, emotion, and rhythm.
Advertiser
Town Criers get the word out…lavishly…loudly…lively. Nathaniel's clear and concisely communicated messages capture attention, generate interest, and inform passer bys about specific events, products, or services being offered by you.
Information Resource
Communication, conversation, and connection, are the three C's Nathaniel provides as he keeps people informed on what's happening. Nathaniel carries your official literature in his haversack to pass out. People view the Town Crier as authority figure and will approach him for information. With Nathaniel informed about the layout and happenings of your event, he acts as a mobile resource center to help guide people and answer their questions.
Personalized Public Relations
As your event ambassador, Nathaniel ensures "all is well". Meeting and mingling with both guests and staff, Nathaniel checks in on people's experiences. When Nathaniel shows that he cares about your guests and staff, this demonstrates that you care about guests and staff as well.  Nathaniel ensures things run smoothly and people enjoy themselves. It's Nathaniel's duty to serve you by serving the public.
Mobility
AMAC- "always moving always crying" is Nathaniel's philosophy that ensures by him covering the most territory that the most people can hear what needs to be heard.
Entertainment
Utilizing creative spontaneity, the art of playfulness, and audience interaction Nathaniel provides bonus entertainment for your guests through simple games, customized cries, silly cries, "history explained" segments, posing for photos, and improv routines.